"Don't you get homesick being away from home?"




"No. Home isn't very far away for me at all."







"Well, I know Malacca is just a two-hour bus ride away but…"







"That's not what I meant

[He took one step forward and hugged her warmly]

. I'm already home."




The conversation above is a memento from a time of Happiness shared by a Boy Who Loves a Girl, and that Girl Who Loves Him Back.
Inwardly, I was screaming in joy when we have an early dismissal for our Microbiology SDL today – and I would have literally screamed had I managed to find the strength to do so. Counting the allotted one-and-a-half hour of lunch break we usually get, there was a total of two hours worth of potential sleep time that I could squeeze in if I opted to skip lunch.
And skipped lunch I did.
I don't get much sleep these days, despite classes starting at 9.00 am daily in Year Two. I can turn in at 10.00 pm, but I'll inevitably stay wide awake in bed till about 3.00 am, or usually, even later. My mind works sort of like those television channels that broadcast reruns of really old flicks after midnight – though unlike those television channels, I couldn't switch off my reruns.
And even after managing to slip into some semblance of unconsciousness, the reruns would weave seamlessly into my dreams and become more vivid. More lifelike.

More painful to watch

. That was why I picked up the habit of jogging every morning before class at 6.45 am. I couldn't sleep past that 6.30 am mark however hard I try. The dreams, they wake me.

Every. Single. Day.
I became desperately sleep deprived; having big bits of time missing as my mind spontaneously turned itself off in classes - I think they are called blackouts. I struggled to keep up with the lectures, an exercise I performed effortlessly the year before. I had to do something about this - so on Monday, I paid a visit to the wine store and bought a small bottle of Smirnoff Vodka. I've heard that a little alcohol before bed helps. Maybe it can help me.
I took a thimble-full at first, being cautious as I drank less than four times in my entire life – and never before something as strong. It did little more than burn my throat.
So I took another.
And another.
I wrote my last post – the one with the animal pictures.
I started chugging it straight from the spout.
I prepared my notes for my Problem-Based Learning Class scheduled the morning after.
By 5.00 am, the bottle of vodka was empty. I stumbled to my bed and fell into a feverish slumber.
At 6.30 am, I was wide awake again.


My temperature was spiked for the entire duration of Tuesday and today. My entire upper body; my arms, my neck, my chest was red, puffy and itched insanely. I guess I must be allergic to alcohol or experiencing some form of virginal intolerance to it. I suppose I should find out more about that being a medical student and all – but frankly, I don't really give a damn.
Well, let's get back to where I was at – about my early dismissal from Microbiology SDL;
As I crawled wearily to my doorstep, I spotted something wispy lying on the ground. Something white. Something so delicate that even my merest breath would make it quiver. I gingerly lifted it up and brought it into my room.
My botanical knowledge hovers a bare inch above nil, but that wispy, white, quivery entity was unmistakably a seed of some kind. As far as I can tell, none of the trees in Acharya Compound bear seeds like this. Maybe it came from somewhere far away.

Maybe it's like me – lost and alone, a million miles from

home

.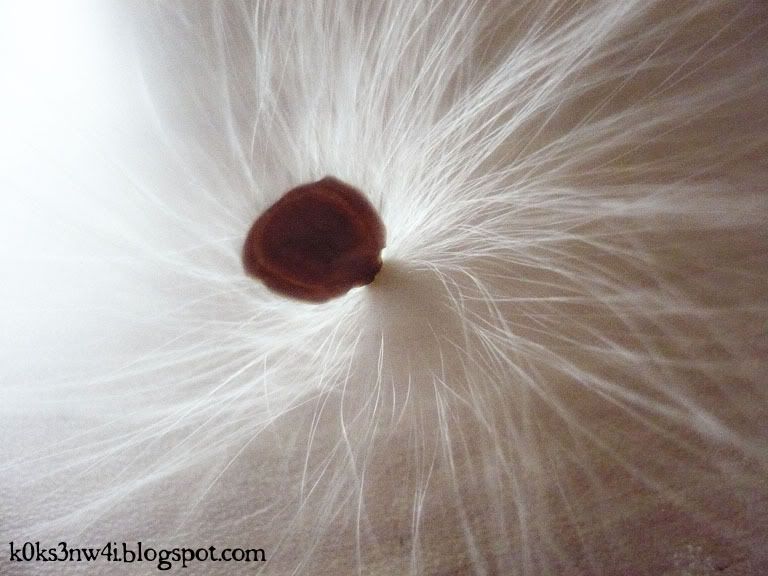 I spent that two hours playing with that feathery seed. I held it above my head and let it hover slowly to my feet. I blew at it watched it dance gracefully about in mid air like a miniature ballerina. I photographed it in motion over and over and over again as if I have never, in all my life, seen something quite so achingly beautiful.


If you've accidentally walked into that moment, you would not see a wearied 20-year-old, insomniac student of medicine. You would instead see a boy of maybe 5, smiling gleefully at a wondrous new toy he couldn't seem to tire of. You would see a boy deep in the excitement of discovery and the exhilaration of first-time pleasures.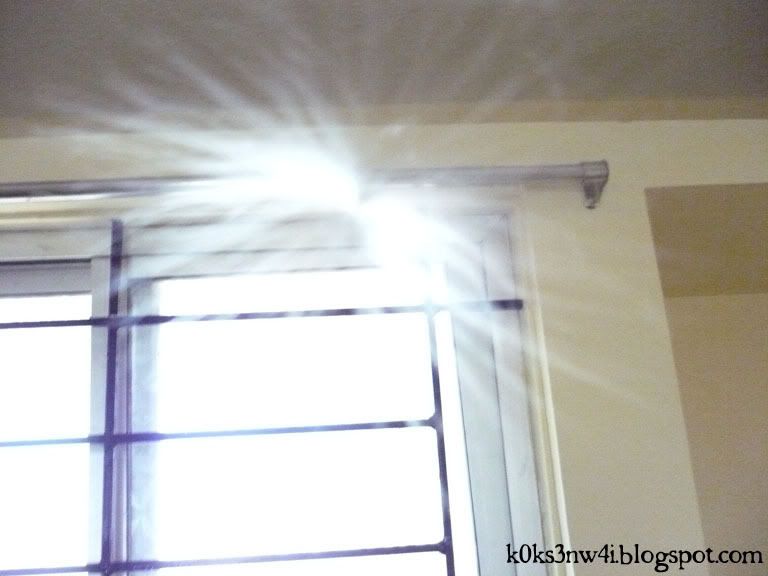 You would see a boy that was.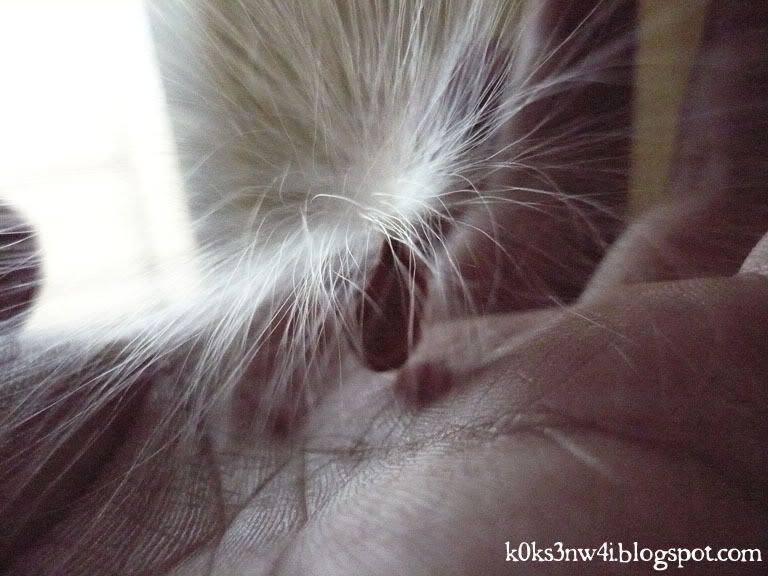 At 1.40 pm, I had to leave for a Pharmacology lecture – the seed now lying half-buried in a sunny spot beside my house. I dare not hope but perhaps, it might just be a tree someday.
And I did not sleep a single wink.
Homeless,
k0k s3n w4i