"You know the happiest day of my life

I swear the happiest day of my life

Is the day that I die"




The Day That I Die (2002) by Good Charlotte
I love this song. It's so unnecessarily morbid. Yet upbeat.
Here's the sequel to a story I hope you remember
Of that bitch Socks and her babies back in October
She had a lair
It was under a stair
And she owned that little hole till early December
Then along came Mom and her little brood
And kicked Socks and her litter out of the 'hood
And ever since then
Mom lives in the den
Now she's stuck there because her ass took root,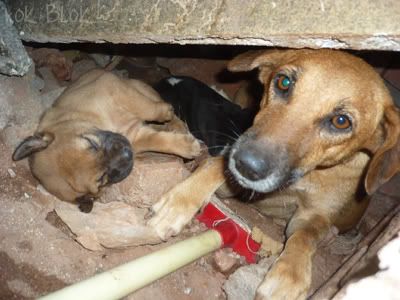 "... I am pleased to announce that the coup d'état is a barking success,"

said Mom in a press conference.
"Doesn't it make a difference that Sock's is your daughter?"
"That her kids are your grandkids?"

asked a pesky reporter
Mom thinks for awhile
And gave doggy smile
Saying
"Dog eat dog, hon - and that's all that should matter."
Beans, Mom's second-in-command - she disagrees
With her mother's aggressive invasion policies
So she packed her stuff
And left in a huff
And now she sleeps with the enemies,
The rest of Mom's puppies then followed Bean's defection
Turned tails and ambled off to join the opposing faction
Together they cry,
"Now we are five!"
Then promptly lost interest and took a nap in mid-action,

Okay, okay - enough lame shit rhyme for today. I got a Microbiology practical exam in the morrow so I'll just caption the rest of the pictures and leave them at that. Back in October, we started out with eleven yipping furballs.


Since then, one got pupnapped while the other five
They died in the valiant attempt to stay alive
So

a la

Survivor
A two tribe merger
And the puppy quintet sang,

"We Will

(hopefully)

Survive!"

Sorry. Couldn't resist. That was seriously the last one, I promise.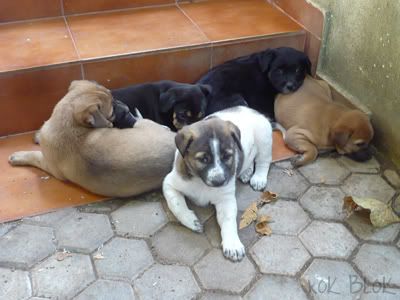 From left to right: Beans, Spot, Pup 1 (who looks like Patches), Pup 2 (who always look so deadpan), and Pup 3 (who is damn antisocial).

Beans, Spot and Pup 3 belongs to Mom while the other two are Sock's. I wonder if they take turns feeding the kids, but guess that don't really matter since they have taken to gobbling solids (ugh, wholly unintentional rhyming here).



By the way, I think I've found a new favourite. Meet Spot,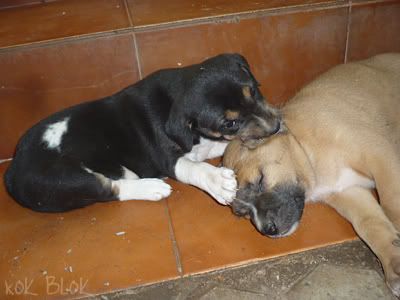 Spot:

"Zombie pup is gonna eet your brain!"

*sink teeth into head*

"Grrr... Ngam ngam ngam..."
Beans:

"ZZZZZZ..."

I call her Spot because - well

obviously

because of that white splotch on her butt.



I also like the fact that her four stubby feet seems to be wearing plaster casts. And the orange brow dots.

And that tail! Don't get even get me started on the tail!



Plus, she doesn't have that scruffy unwashed look that stray tend to have - she's so velvety. I'm seriously thinking of keeping her for real.


Will write limericks for soup,
k0k s3n w4i