"Joy is not in things; it is in us."




Richard Wagner, German composer

I remember looking for them every morning right before I go to school, and as soon as I return in the evening. I remember sparing a moment to play with the little things before I went for every exam paper I was sitting for, regardless how pressed for time I was on days like that. I remember weekends spent just sitting nearby and watching them gambol about the garden and the courtyard - for hours at a time. And somehow, I was contented. It's as if their carefree joy, mindless frolics, and complete enjoyment of the very living moment without a single shade of responsibility were somehow mine as well. If I was living by extension, by empathy - then by all means, plug me in and superglue the sockets. I could live like this... gosh,

all my life

if I have to.

And one day little more than a week ago, I returned from school and I couldn't find my little friends. Someone stole all 5 of them at once.



"I'm damn angry,"

said the senior who fed the puppies and their mothers when I spoke to him. I didn't express it, but damn - I felt like shit too. I mean, losing the things you've grown to love and care for over a whole month's time with such suddenness is just... harder than I could have possibly foreseen. For days afterwards, I kept finding myself in the middle of strolling to where the puppies used to play after my classes. And I would stop mid-stride and go

"Oh"

- and then return to my cold, emo room and play cold, emo music to myself for the rest of the day because I couldn't imagine what I could do to replace the hours

I have counted on

on spending with my tiny companions who always seemed so happy to see me. I mean, nobody else was

that

bloody happy to see me.

This will be the last puppy post I am doing for ages to come. I have chosen the best pictures from the hundreds I have taken before they were pupnapped to share with you, dear readers. I know I'm no ace photographer, but...


I call this one Silky. She's the deadpan pup I was talking about in the last puppy post.
Mother (and grandmother) of the year, anchored by the nipples. Silky and Patches v2.0 belong to Socks actually.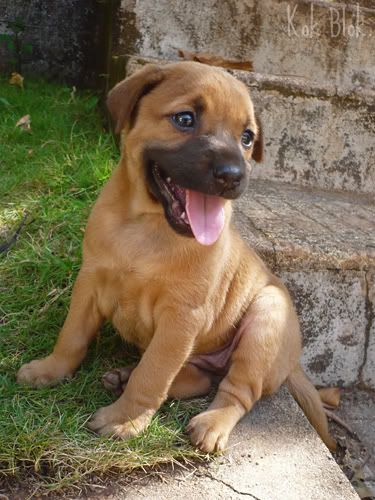 Runt of the litter, and cutest of the lot. Unnamed, though. Suggestions? Not that there's any point in that now.

Wherever they are now, I hope they'll still be just as happy as they always were.



Sentimental ol' fogey,
k0k s3n w4i