"A happy person is not a person in a certain set of circumstances, but rather a person with a certain set of attitudes."



There used to be a time, I think, when sadness is not considered a disease. Sadness used to be a thoroughly human aspect of life; commonplace, essential even. Then at one point in the highway of history, it became a malignant condition, was renamed
"depression"
, and drugs were invented to treat it. I like to think this but I may be wrong, but I think it all the same; I think that there used to be that time when we were less fragile. I think that there used to be a time when we take the punches as they land, and not pop a pill to kill ourselves a little inside, to deaden our capability to feel pain. It's like copping out of being human. Something bad comes along and gets you down, don't fret; we have a cure for that now.
That's the difference between the sadness the feeling, and depression the syndrome. We have recategorised something not necessarily absolute into a condition, into something immutable, something completely out of our hands - something like the flu.
When I tell someone, a friend or someone closer who is sad, to cheer up and that they ought to stop feeling unhappy, I always get that look of incredulity, the one which says
"I can't help how I feel you insensitive clod!"
This is the problem. People think that they can't help how they feel - which is one of the first things I had to learn about other people because, well, I always could help how I feel.
There were times when I have lost things, a wallet or a handphone or a wad of cash, was ill-prepared for a major exam or got a right telling to by a lecturer, and my friends were always struck by how unperturbed I was about those things. They'd go,
"OMG, aren't you sad about that? Why doesn't it stress you out?"
There's that time I studied for the wrong subject in a mid-year exam and I only found that out when I got to the exam hall and saw that everyone was swotting for something else, so I pretty much had to sit for a paper I had not studied one whit for. A guy told me,
"I'd cry if I am you"
. I could tell that they were pretty freaked out by how unnatural my personal emotions and responses were sometimes. There were times when I ought to break down or tear my hair out - and I wasn't doing all that - so people wondered. This was always my answer;


"Why? Does it help?"
I always felt that that's pretty much self-evident. What I don't get is why it isn't as evident to everyone else as it is to me.
Happiness is always a choice
, I always say. The only reason why I was ever sad before was that I chose that too, even if I don't always understand why I make that choice.
Though, I like to think that it's because it makes happiness that much more worth having.
I have to stop talking about this before it eats up this entire post. I actually meant this as a travelogue but that happens a lot around me. I accidentally write posts I don't mean to sometimes. I just wanted to share a bit of my views on happiness because it'll help you to understand why I am the only person, out of our group of eleven, who genuinely enjoyed my day in Varanasi.
I was the only person in my entire group who wanted to see Varanasi during the initial planning phase of our backpacking trip and like
Dharamsala
and
Manali
, I had fought for it and won. While Dharamsala and Manali eventually turned out, in retrospect, to be the most enjoyable cities all of us agreed we've visited on our trip (thus, confirming the superiority of my judgement over everyone else's, as usual), I regret that I'm still alone here in my opinions about Varanasi. We ended up only spending twelve hours there. Throughout that twelve hours, there was an undercurrent of urgency in everyone to leave the city as quickly as they can - an urgency so palpable that I could practically feel it throb around me. They
hated
being there, I could tell.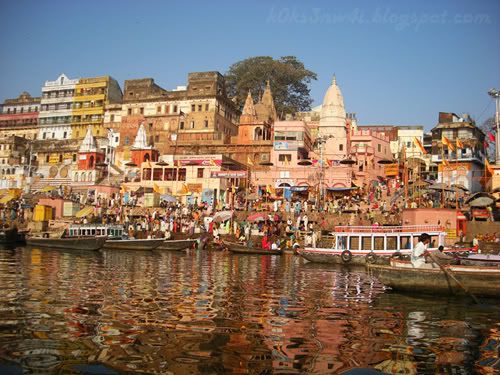 Personally, I think the place rocks.
All we did was took a boat ride on the Ganges in the morning and caught the sunrise, and after that, everyone trooped resolutely back to the backpacker's lodge and hid there, as if the city has something terminal and contagious, and was out to get them, till it was time for us to catch our connecting train to Darjeeling. No one wanted to see any of the amazing, one-of-a-kind sights and monuments Varanasi harbours. No one wanted to stay till the evening
puja
and cruise the river at sunset to see the thousands of devotees in deep worship at the banks. No one would accompany me to Sarnath, to the site of an ancient deer park where Buddha, a metaphysical genius
waaay
ahead of his times, gave his first sermon about half a millennium before Christ got nailed to some carpentry. We were at one of the cradles of civilisation of humankind which remained virtually unchanged through the ages, and nobody was the least bit excited about it. Philistines, the lot of 'em.
Shiva was said to have founded the city and it is told that if you die here, you'll escape the cycle of death and birth for good - a shortcut to Nirvana of sorts, I think. So, you can understand that a lot of old people in India would actually travel all the way there to die. It's kind of like what Ipoh is to Malaysia, really.
And I think the Ganges river water helps to speed things along.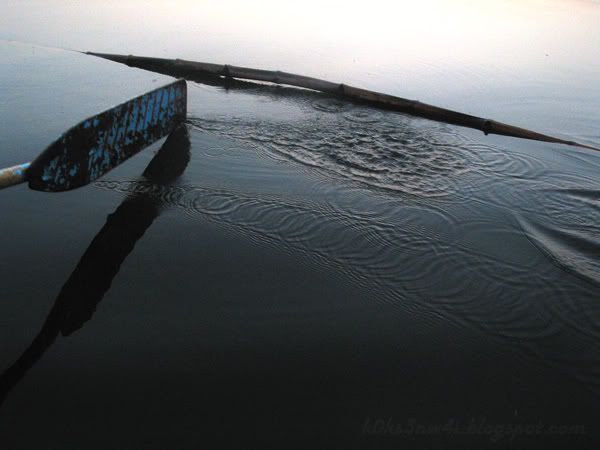 "But it looks so clear and serene,"

I can hear you protesting. This picture is another of Vincent's masterpieces.
The water is considered septic hereabouts, which means there's no dissolved oxygen in it at all. Water samples which was analysed showed that it contained about 1.5 million E. coli bacteria per 100 ml of water and in order for it to be safe for bathing (and washing faces and drinking, which is what all the geezers here do), the number ought to be less the 500!
If there's one thing I can say about the water here is that it can most definitely cure constipation.
How did it get this way, you might ask. I'll tell you; it's the sewage pipes. There's seven huge ones all along 7 km stretch of the Ganges which tentatively belongs to Varanasi, all discharging the crap of the millions and millions of the city's inhabitants into it daily. The thought of touching even a drop of it makes me shudder all over while there are people (and some enthusiastic but not very bright Japanese tourists diving headlong into it) taking a holy dip in it every second of the day. There's no stench whatsoever, strangely enough. You'd think the whole river would smell like your regular high school male toilet from all the shit it's taking.
And of course, let us not forget Varanasi's
coolest
most unique pollutant of all,
The picture is all grainy because it was taken on maximum zoom, after we've rowed past it because we were debating the ethics of photographing such a subject - and then we realised that we're medical students and immediately whipped out a camera to snap it. Try and guess what it is. Come on, it's not that hard, surely.
If you guessed
'Killer Whale'
, you're wrong. It's a corpse, a floater bloater. There's a lot of them bobbing about on the Ganges hereabouts and we got so close to one that I could simply reach out and give it a pat on its back. That's right; they just dump it in and let it float downriver.
I asked our guide about it and he told us that if you die from a snakebite, this is the funereal standard operating procedure around here. Just snakebite deaths. He was a bit sketchy as to why it was so, though. The rest of the common deceased just get a bonfire and a gaggle of tourists gawking on as they turn extra crispy.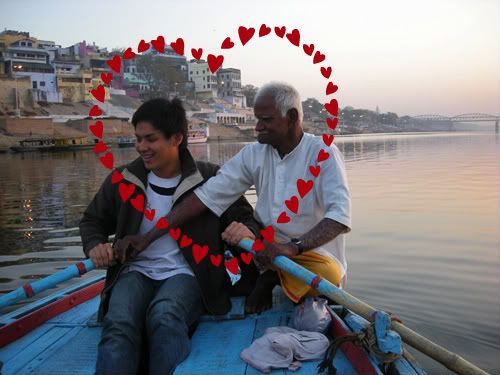 Just look at how excited Vincent is.
Dihvya, the only Indian in our Indian backpacking group, fell ill on the train ride here from Delhi and she opted to sleep it off in the backpackers' inn when we tried to wake her for our 5 am boating excursion.
"We came here for her but she's missing it,"
one guy remarked. He just assumed we came here for her because she's a Hindu and Varanasi is one of the holiest Hindu pilgrimage sites in the world. That's kind of ironic because she was one of the more adamant protester to the idea actually. I corrected him but not one hour later, another guy piped up with very the same comment. It makes me wonder if people actually paid attention in those meetings we had before the trip. Did they oppose my proposals because they really had an idea (or at least, a misconception) of the places I wanted us to go to, or did they simply oppose me on principle?
There's a general consensus going around in college that I talk a lot of cock. People tend to disagree with me on reflex - y'know, just in case.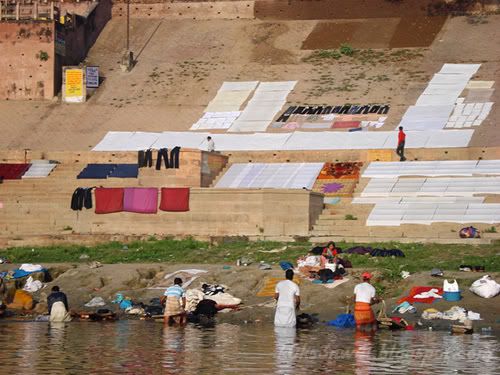 Maybe the bacteria in the water just gobble the stains right up.
When the sun got high enough that looking at it hurt our eyes, we got off at the other end of the city and got off the boat and headed to a Thai and Japanese fusion restaurant called I:ba, where I miraculously won a free T-shirt. I'll explain more in my next post but I can tell you this - I have never experienced a stronger feeling of certainty of winning anything in a game of luck in my life than when I participated to win that T-shirt.
I felt so upbeat and persistently cheerful that I opted to foot the kilometres back to the backpackers inn on my own through the old city, while everyone else, so tired and so sick-of-it-all in comparison, chose to hire some rickshaws to cart them back there as quickly as possible. On the way, due to very unusual circumstances (which I'll also explain in my next post), I got to watch a cremation up close without needing to donate a single rupee, in spite of the convention of all the crematoriums in these parts. And due to the same unusual circumstance, I managed to score a dirt cheap session of Ayurvedic massage, paying only about a quarter of what they usually charge in the massage centres here.
You could almost say that I was charmed. I simply couldn't explain it. It's just one of those rare days when absolutely everything just happens to go your way.
When I finally got back to the inn, I was like a blinding bit of sunlight streaming into a dark room of people suffering from migraine headaches and hangovers. The contrast was quite painful to watch; everybody moaning every other minute about how they hated this vile place and couldn't wait to bugger off and I...
I was happy
.
My only cause of complaint is that I couldn't spend more time in Varanasi. I think it's important, really, how our attitude has to be in the right shape and size. I came to this city with a childlike sense of discovery and wonderment, and the determination to enjoy myself no matter what, while everyone else brought along with them the extra baggage of a touristy brand of expectation. And you know what expectations are? They are these little cups which have to filled to the brim in order for the expectant person to be happy. That, I think, is a wrong approach to happiness.
My way is better, I dare say. There's a lot of things in life we have absolutely no control over; things which you may potentially like or may not like, and how they will affect you depends quite entirely on what you think of them. You can say that I'm easily pleased. You can say that I compromise my standards and altered my way of thinking in order to like something which is not very likable.
But I'm happy, and you're not.

Makes the right choices,
k0k s3n w4i