"phoebs thinks its cute."






"she's your gf. she's biased."








beve n i about my msn display picture... or sum shit liddat la

phoebe n i went to bluewaters jus now cos i promised her earlier this week tat i wud take her dere to makan da mash taters there mar. taters soundss so much betta than po-ta-to rite? i dun noe y people even stil call em po-ta-tos. somethin shud be done bout that in that oxford dictionery thingy srsly. taters roxxor. po-ta-to suck ass!!!!!
where was i? OH!!! I remember!!! u kno not? the mash taters at bluewaters is da shit man. its the best i hav eaten evar. and phoebs tinks so tooo. i noew it looks kinda funky... i mean... kinda funny. but its kinda funky too joo noe whut ah mean??? but okay okay.. nuff wiv my shit. here's pikchur...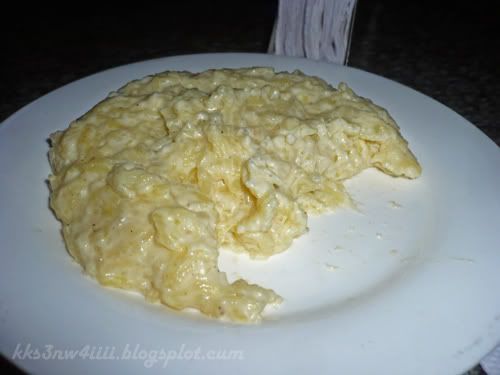 goooeeeeeyyyy!!!!
i noe it looks laik vomit, i agree oso but then da taste damn the geng 1. i dono y la. no gravy oso rite?!? first time i eat it that time hor, i at first tot they mixed sum rice innit. i can feel like got pieaces of squishee stuff inside my mouf. meybe its sum tater not mashed kau kau. buthen hor, the flaver realli nice mar. so evrytime go there i order lor. the important thing is dun think so much when chew can d.
of cos we not only eat mash taters la. got other stuf oso. err she had chiken steak i think. and i ate... erm..... errr.... wait wait, lemme think, i noe this 1.... OH! chiken steak!!! chiken steak oso, but my one got mushroom in the sauce mia. hers dun have. so they dun taste the same.....
but lemme tell u one thing la. the portions at bluewaters very the kiam siap 1. makan tak kenyang mia. cos tat place club mar. oklar, it's not club so hi class like zouk or pure bar or shit liddat, but still got ballroom for ppl to dance somewhere at the back la. u walk past the toilets den can see d. i dono y bt i feel like going there too. suddenly feel like i very pro at dancing bt phoebe dowan let me go..
OH OH OH!!! wana tell u all hor. i damn like tis pina colada. i think it got rum n coconut krim. n oso got that spiky fruit mia but i not talking abt durian here k? a bit yello 1 inside. NO LAR. NOT DURIAN LA! i noe durian oso yello inside bt tat's not it k? kanasai...
but dun worry la, i a bit a bit wun get drunk mia... pina colada only mer. like shandy only, i tink.
I dono abt tat 2 other glasses of something else i drank la. got vodka 1. and gin. and tequila. and got rum oso gua...
too bad my lou po not geng at holding her alcohol. she became like lobster boil too long d after oni half a glass of tequila sunrise. u look at her face!!! n her cheeks wuz srsly burning up when i touched them. i sit beside her can feel her radiating solar power.
bt i happen to tink that she's way hotter after she mabuk d xD. her smile also becum broader :3...
so afterwards, in case i order sommore pina colada, i faster call for the bill and pay lor. n while we were waiting for the bouncer guy at bluewater's front gate to call for an auto (also called
tuk-tuk
in siam and jawa) for us, we challenged each other to stupid drunk tests. like walking in straight line. and throwing stuff into the air and catching them with one hand oni. the other clubbers whu were just coming in gave phoebe funny looks (not me cos i damn the sober). wait wait wait!!! i just remember somthing funny!!! when we juz exited that place n was walking to the bouncer, phoebe suddenly just drop the purse she was holding in her hand!!! like walk walk walk walk then drop... can't even hold her purse properly d LOL!!!111!1 after oni 1 cocktail!!
i duno y la but when the auto came d, and phoebs and i was walking out, i accidentally ter-kicked the door. and i said sorry to it xD. the bouncer fella and his frens was there and they all LOL at me..
i wana go bek there to makan again next week :D
where got drunk leh,
k0k s4n w3i