"Tell me all your thoughts on God,
cause I'd really like to meet Her."




Counting Blue Cars (1996), Dishwalla
My thoughts and ideas may be considered heretical by some circles. Just write me off as someone possessed by the Devil or Shaitan or whatever the Figure of Supreme Evhulness your cult

faith has if you disagree with what I've written.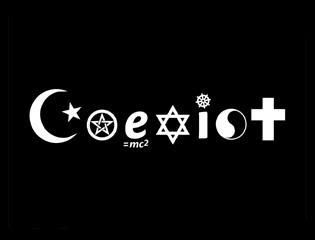 Hey, why is science in there!
Now that I am repeating it, I'm sure my vernacular is by no means exact - but the essence is this;

"So long as you're happy, you're in the right religion."

Someone's grandfather told her father that, and she told that to me in turn. My interpretation of that line might be erroneous as well, but heck, that's not going to stop me from saying it out loud anyway.
I have often considered the idea of a creator, of a heaven, of karma, of final judgement and the ever after nothing more than an invention of man - something to make sense of everything we're doing right here, right now. It's a way for the mind to cope with... well, existence, basically. I get how impossible it can be to believe that there is no supreme plan, and that everything that we know and love and hate and suffered for are just some very random permutation of events that doesn't make any more sense than how a pane of glass shatters by the dint of a brick. Michael Swanwick described that futility of living without the belief that we are on our way to something better beautifully in his eerily haunting novel,

The Iron Dragon's Daughter

. It had lifted from being an outright atheist and dropped me into agnosticism; which was more than any Big Book of Godly Truths ever did. Limitations of my own mind have stopped me from, if the fanatically godless would excuse the term,

'progressing'

any further than that.
What I'm trying to say is, having faith fills a void in our very human psyche.

God makes us happy.
A few months ago, I've taken an interest in the notoriously unyielding policy of Islam in my own homeland, Malaysia (not that I'm saying it shouldn't be that strict, of course - I am grossly unworthy to opine). In the course of of my curiosity, I have come across a video of an Hindu Indian man and his cry for help - I failed in locating that particular clip again, however. He married a Muslim woman (who converted to Hinduism) in spite of the protests of her family, and they had a daughter together. Apparently, the woman's family have alerted the associated moral police and she was forcefully separated from her husband and dragged off to a correctional facility for wayward Muslims for indefinite incarceration. The child - no more than two years of age, I bet - was given into the woman's parents' care. They had very righteously declared in the video that the child would be brought up in the glorious tradition of Islam.
Like I said, I am unworthy to opine - it can be dangerous if I'm too free with my liberal (and most definitely bedamned) ideas. All I can safely say that in that debacle,

no one was happy

. The poor Indian man who had his wife and child taken from him, he was helpless to do anything. The apostate, the Muslim woman who renounced her faith for love, was miserable as hell being locked up. The Muslim woman's parents was angry, and might possibly be a bit smug after they have taken custody of their grandchild. I don't know about the li'l girl, but I bet she hated being taken away from her Mom and Dad - don't think she's old enough to get what this... this...

'tragedy'

is all about.
On a very basic level, I think something went awfully wrong here.
Because no one was happy.
Of course, what does all this matter to me? I have free rein to worship any Being of Supreme Omnipotence I like (whichever gets me first) and I'm not dating someone who cannot marry me because I'm like, so going to hell (several thousand hells actually since I don't believe in so many different godheads). They shouldn't matter at all except that I know some of these people who got their happily ever after ruined by God on a personal level. Wait, sorry. My bad. It's not God's fault. For want of someone to blame, let's just blame whoever who was too stubborn to convert to the

true

religion, okay? Blame the infidels, right?
Everyone's going to someone else's hell, apparently.
I'm terribly surprised to discover that faiths that I have previously thought to be more tolerant - like Christianity for one - to be the catalyst of

'tragedies'

similar to the one the Indian man, his wife, and his child had. It might be über pious parents. It might be the pastor and the church. I don't know. It might even just be because some jerkoff boyfriend wanted to axe a relationship and decided to sign the tab off to God. These creeps just disgusts me. Of course, by

'creeps'

, I'm only referring to jerkoff boyfriends.
Well, readers, you'll have to excuse me if i have stepped on any of your toes too hard - I distinctly felt some tootsies underfoot when I write this. Forgive my unlearned opinions and godless ideas. I'm just a creature of feelings.
And when no one's happy, I tend to feel that something is wrong.
Wanted in your God's hell too,
k0k s3n w4i