"The first time I saw Udaipur's Lake Palace as a child, I asked my father if it had been stolen from a fairytale book. Years later, when I returned to write about the city, I couldn't resist asking the Maharana of Udaipur, owner of the palace, the very same thing. He quizzically raised one eyebrow, paused, then, with utmost seriousness said... perhaps."



I got the above quote from my indispensable Lonely Planet guidebook to India.
"Like no other place on earth,"
was what Rosita Forbes, the famed early 20th century English woman and traveler, said of Udaipur when she passed this way during the decline of the British Raj. The James Bond flick
Octopussy
was shot here, and so was
Gandhi
, the immense 1982 biopic of Mohandas Karamchand Gandhi (yes,
that
Gandhi) - plus many other Hollywood and Bollywood films besides. As it happens, I too have fortuitously stumbled upon a Disney movie set when I was there (I'll show you a picture of it later in this post).
But first, here's a picture of the City of Lakes,
Okay, okay - I shall refrain from making this post a fucking documentary, as hard as it is going to be to do so. Going to places puts me in the mood to lecture, somehow, and I feel old nowadays. I find myself prone to being a bloody bore, which strangely no longer bothers me as much as it used to.
One of Udaipur's lakes, the Fateh Sagar, and the Nehru Garden in its centre. That little white speck atop a mountain on the left is the Monsoon Palace.
I first decided to go on a backpacking trip across the Indian north after reading my friend's blog, and
the (still unfinished) chronicles
of his own journey there. His commentary was light and affectionately lame, and his photographs - well, they aren't the works of a professional shutterbug, but by Jove, it got me completely hooked by the soul. I can't remember if there was any other time in my life I feel so compelled to Get Up and Go Out.
The fountain and pool of the Saheliyon-ki-Bari, Garden of the Maids of Honour, which was designed by a king for his queen and her 48 maids as some sort of royal picnic spot.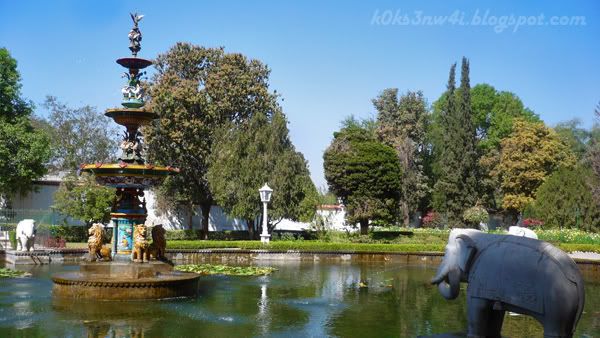 Another part of the same garden.
And its impossibly blue flowers.
Maybe, when I write about any place I've been to, I'm trying to recreate, for my readers, that same sensation of restlessness I experienced when I read Nickson's posts about his North Indian trip. I want to make people want to go where I went to, and to see the things I've seen. I want to share my feelings - the same awe and wonderment for the beauty of the Earth and the mark of civilisations found and lost on it, and of those few which endured. In this little way I call myself magnanimous. Happiness, I heard, is only real when shared.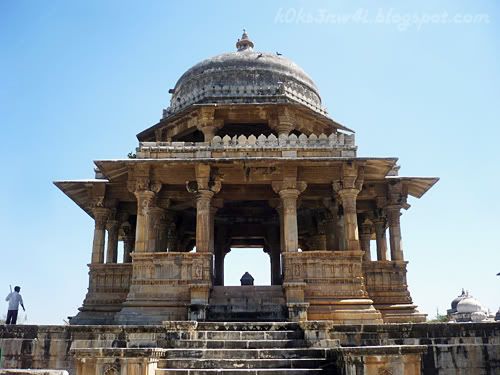 The biggest, baddest one of the lot. Who knows - it may even belong to the founder of Udaipur, Maharana Udai Singh II himself.
It's not easy writing travelogues, especially considering the way I do it. I take pain to select which of the thousands of pictures I took to show you, and make the effort of photoshopping them to make them resemble as closely as possible to what I see at the moment I capture it on a photograph. I would spend hours researching the history and stories of the places I visit, and cross-check my facts so I know them to be as accurate as I could make them - because I just don't think it's right to write about something I didn't take the effort to learn about.
Of course, I didn't do all that just to please whoever who reads my turds. Every second I spend on a travelogue tweaks the memories of my travels into high definition, and reading about things I've ogled ignorantly at redefines my perceptions, and allows me to enjoy them anew on a different level. It's kind of like watching a digitally remastered version of a fond old movie, really.
Stone carvings on the walls of the centuries old Indo-Aryan Jagdish Temple.
Picture taken by Josephine of some other carved ... thing. I forgot to ask her what.
I apologise if I tend to be dull and pensive this time. There are other cities in India I toured which demand more amusing, and lighthearted words to talk about, but Udaipur isn't like those cities at all. The City of Lakes is a solemn and tranquil place, and its charm bends gently towards thoughtful romanticism. It's a place which vaguely reminds me of every fairy kingdom I have ever read about in storybooks, and without even meaning to, transcends them all.
Just because it's real.
Throughout my entire journey, there were only three places I left behind which I vowed to return someday. Udaipur, of course, is one of them.
Part of Sajjan Garh, the Monsoon Palace, atop the mountain from which I took the first picture.
Which takes on a rich amber colour during sunset.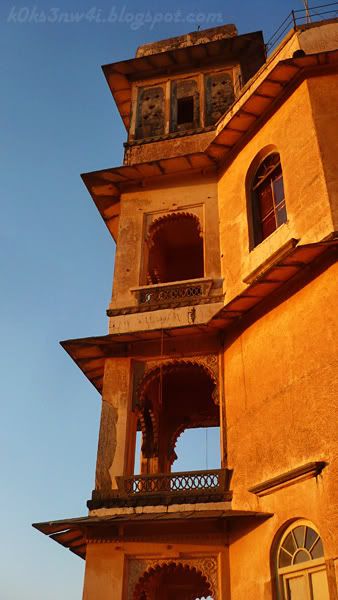 I can't find a vantage point from which I can capture the entirety of the Monsoon Palace because large areas of its grounds were roped off because of...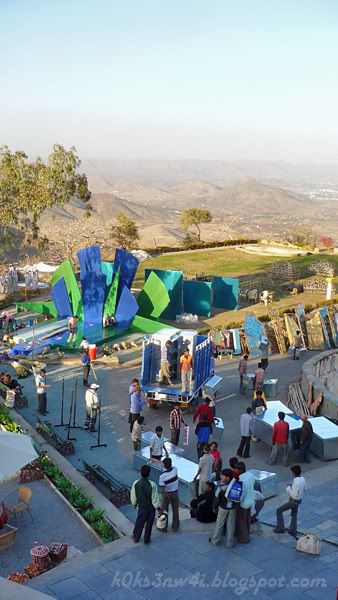 The movie set I promised to show you earlier.
It was in Udaipur that I experienced my first ever visit to a movie set. Sure, it's just Disney (not Hollywood, drat) but still, it made for a pretty exciting addition to my brief stay in the city. We first learned of an American film being shot there on the morning we arrived when we were looking for someplace to stay - most guest houses were fully booked because of that.
I was a bit disappointed to discover that the set itself was extremely tacky, completely lacking that expensive grandeur bigger budgeted movies I expect have. The crew working on it were entirely staffed by local Indians, and the only indication that it was not some cheap Bollywood production were a middle-aged American woman who was
cracking her whip
instructing the works, and some shiny metal cases labeled
"Art Department"
lying around.
At one point, the American woman called for a certain Kumar which I presumed to be some sort of translator or foreman, and that got me laughing. She was like,
"Kumaaaaar! I want this to be moved from here to there and then back here again! Then go get me someone to hold an umbrella over my head - your stupid sun will be the death of me, I swear. And while you're at it, Kumar, get me a nice cup of
chai
and some of those biscuits shaped like Mickey I like so much. Now scoot, scram and skedaddle!"
- not exactly what she said, but you get the idea.
Oh, I haven't tell you what movie, have I? It's a Disney Channel Original Movie called
The Cheetah Girls: One World
. It has a plot centred on members of possibly the lamest named teen girl group competing with each other to star in a Bollywood movie - which explains why the set pieces were so Bolly-centric. Took me a bit of Google-work to find out about it because - hey, it's not like they have the film's title stenciled all over the shoot location, okay.
I remember that at the end of our first day in Udaipur, our frightfully competent guide took us to this rather posh lakeside restaurant where most of the guests wore tuxes and cocktail dresses. There were newlywed and going-to-be-wedded couples clinking glasses, family vacationers and business diners, and a live band playing great traditional Rajputani music. Across the serene calmness of Lake Pichola stood the Lake Palace Jag Niwas, a magnificent monument of polished marble seemingly afloat on the surface of the water. It was made out of precisely the same stuff they use to make fantasies and dreams, I'm sure - it has the same ethereal, impossible quality.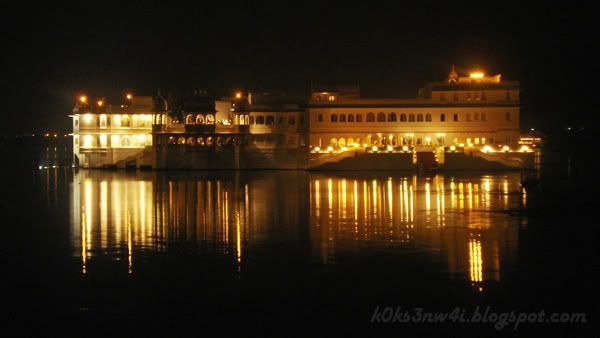 The Lake Palace, a former pleasure place of the Maharana of Udaipur - now, the zenith of luxury hotelry and a lasting emblem of romance.
"I wish Phoebe is here,"
I found myself thinking idly.
I believe in magic,
k0k s3n w4i