"Unfaithfulness in the keeping of an appointment is an act of clear dishonesty. You may as well borrow a person's money as his time."





Horace Mann, American education reformer and abolitionist


Walking the long, dark mile to the Sky Lounge wasn't a very smart thing to do, particularly since it was raining rather profusely and I had to tote a bottle of vodka along - which was the birthday present from my part. I was told by Shaki to be there by 7.00 pm to be in time to shout

'Surprise!'

with the rest - who was all told to be there before 7.30 pm (latest). The guests were... Malaysians.

Predictably, I was the only person not ludicrously late. The. One. And. Only. And I

walked

. With those gangly things called legs. The second earliest people to make it arrived half an hour later, at the time when the

'Surprise!'

bit supposed to happen - and everyone else arrived

after

7.30 pm. What did they expect to do, really? Come in after ol' Kok greet the birthday girl with a bottle of Smirnoff in one hand and no cake in the other in an empty bar? You guys should have seen some of the SMS's I exchanged with Shaki during that time I was Guest Singular. Classic hilarious. Shaki actually freaked out a bit.

Anyway, seeing that it wasn't planned by me, and the birthday girl was Shaki's girlfriend and not mine, I don't really give a hoot if the surprise didn't work out at all. The thing I could never wrap my head around is how can people have the nerve to be so late? I mean, I'd be appalled to find myself arriving a couple of minutes past the appointed hour - only to find that I'd still be attendee number one. There are so many dinner dates in which I find myself present with impeccable promptitude, and watching people arriving half an hour - even an hour late - and the only excuse I am ever offered, on the rare occasion anyone actually think they owe me one, is,

'Malaysian mah'

. In those times, I found myself dangerously close to shouting back; 'Then what the fuck am I? German?'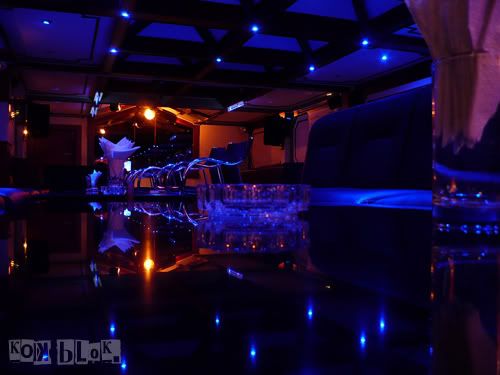 The empty Sky Lounge bar. Fucking knew it.
The problem is no one thinks that being late is anything wrong at all - because everyone else is doing it. It's cool. It's fucking high fashion (if I hear the cliché
'fashionably late'
one more time I'll beat that person who say it to death with a grandfather clock). Nobody wants to wait for the laggers and so, they choose to lag themselves.
What about those people who honour the appointment
- people who tried their best to arrive on time so no-fucking-body have to wait for them? I always try to make it at least 10 minutes early every time because I think that letting anyone wait for me is just plain
selfish
- any conscientious human with an intact brain can work that out. But no, bloody selfish pricks ain't got no conscience.
Of course, I know that nothing I say here is going change anyone's shit attitude. Fuck, I'm just one early guy. Just let me fucking wait till my balls fall out. I mean, I'm the selfish one here for arriving on time and then bitching about it when everyone else is late, right? Damn, that's so fucking inconsiderate of me.

Nah, I wasn't angry yesterday at the birthday party. That comes from learning to expect these things. Oh, and no offence intended to anybody in particular. My beef is with the general

'I'm Malaysian so I don't need to be punctual or apologize when I'm late'

attitude. Am I the only one who finds it ridiculous and ill-bred? I wonder where I was when I was younger and they were giving out those free social-conscience-removal surgeries.

Oh yeah, learning basic courtesy from Enid Blyton kiddie classics.



Haha, moron,
k0k s3n w4i