"The traveler sees what he sees, the tourist sees what he has come to see."




Gilbert K. Chesterton, early 20th century English writer




There's 14 pictures in this whole

phlog

1 post so get your affairs in order now because you're gonna die waiting, biatches.
Early morning of Day 4 of the Great Penang Road Trip.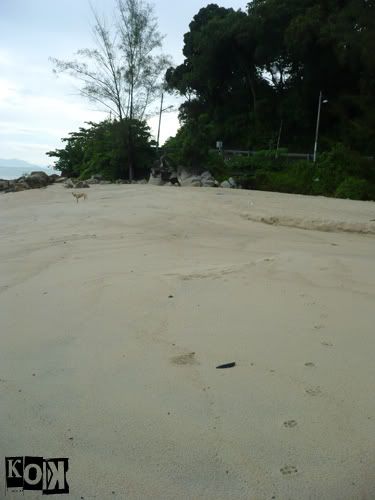 A dog and its prints on a small stretch of beach in front the Tropical Spice Garden
On the fourth day of our road trip, we felt decidedly adventurous and blazed onto the road leading to the other side of Penang. The first attraction en route was the

Tropical Spice Garden

located somewhere between the provinces of Batu Ferringhi and Teluk Bahang. Seeing that the joint weren't open yet (plus the admission fee was a real early morning kicker), we decided to pass it by and trucked on. Paying so much to see an ornamental garden is just stupid. Paying so much

and

having to wait for it to open would practically make us retards.

Next stop on the list was a

Batik Mill

where were treated to a free guided tour by one of the kebaya-clad cicerones working for the establishment. The keyword here is

'free'

. If you're in Penang, and for some inconceivable reason, you are suddenly overcame by this strange desire to find out how batik cloth is really made, this is the place you should head to.

Drawing with hot wax using a

"canting"

. You can see a bit of our cicerone on the right edge of this picture.
Some dude printing batik using the stamp method for repeating patterns. I gotta ask; why the fuck is he wearing a tie-dyed shirt?
Cottage industry in progress.
The tour concluded with our guide bringing us into the shop section of the mill and asked us to look around for anything we might like. While we browse, she stood some distance away giving us a look that said,
"You got a free tour, now you owe us and you must buy something extravagantly overpriced from us."
Of course, we being both Chinese and Malaysian, sniffed audibly at the substandard quality of their wares and discreetly sidled out of the store, mumbling all the way that it was

*wink wink*

high time for us to start our journey to Kelantan, where
*nudge*
better batik is produced.

We continued our south-easterly drive, passing many attractions such as the

War Museum

(
It was too beautiful a day to be cooped up in a repository of semi-primitive weapons of mass destruction)
, the

Butterfly Farm

(we have all been in one before) and some forest reserve (On Penang? No thank you). What we really wanted to do is to find the

Tropical Fruit Farm

, buy some nutmeg and nutmeg oil - which Penang is justly famous for - and be on our way out of the island. After driving about 15 minutes on a ultra-narrow, super-winding hillside road, we decided to call it quits. I made the most harrowing U-turn of my driving career and started backtracking along our trail...

...till we met a tourist van filled with Caucasian tourists we saw at the Batik Mill zipping past us.

"Tourists heading that way wor. That means that there's something there that is worth seeing, right?" I asked. "Shall we?"

A unanimous decision was quickly reached and I made the second most harrowing U-turn of my driving career. Why didn't I think of following a tour group before? Pure genius. Nutmeg is indeed the mother of improvisation.



The tour van did not reach the Tropical Fruit Farm unfortunately, but it did the next best thing; it stopped at a local fruits stall. And yes, we got our nutmegs and nutmeg oil!



You're reading my blog so you got to bear with some of my quirks. I must insist on photographing every cat, dog, pig, horse, mudskipper and nine-banded armadillo I see on my trips. I'm a zoological-inclined, obsessive-compulsive, serial photographer - it says here on my hospital wrist band.

And here's the farthest point we've reached on the western side of the island;



On our way back, we stopped by the Teluk Bahang Dam;



The

Penang International Dragon Boat Festival

is held annually here since 2002. I nearly dislocated my shoulder having a stone-chucking competition with Inn Shan, but my throws didn't even reach the water. The embankment is waaay broader than it looks here in this picture, okay.

My previous desktop wallpaper is a pinup of a butt-naked girl who has the most perfect ass I have ever seen in my life. As unbeliveable as it may sound to you, I finally got tired of it (after 6 months) and got it replaced. Here's my new wallpaper;



Back when I was in the Second Form, I remember that a teacher - a pervert of a Kemahiran Hidup mentor - once told the class that if we ever want to see nude westerners sunbathe and skinny-dip, we should go to Batu Ferrhingi. My guess is that we were just too early.

This proves once and for all that early birds get no tits.



Our Masjid Selat Melaka on the reclaimed Pulau Melaka is way cooler and more picturesque than Penang's - and I have the pictures to prove it. Remind me to do a post covering that some other time, okay? Meanwhile, here's a sneak preview;



Sorry that I couldn't spend more time writing this post properly with the usual loving attention to details that I employed in writing most of my previous posts. Truth is, I've vowed to spend more time on my books during the weekdays. Medical school is no pretty walk in the park with flowers edging the pebble lane, you know. Medicine are serious business, and I are serious man.

See you in the weekend, yo.


The island trailblazer,
k0k s3n w4i




Other posts in my Great Penang Road Trip series:


1

Phlog

means Photo Blog. It rhymes with

'flog'

because it's causes you about the same amount of pain if you read one. This being a

travephlog

makes it three times as unbearable.