"You can keep a dog; but it is the cat who keeps people, because cats find humans useful domestic animals."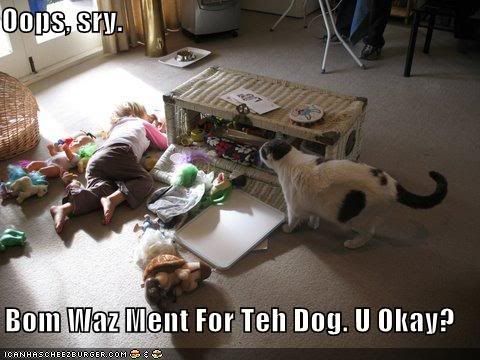 I should be studying for that nasty Surgery exam due in a few hours time, but all I have succeeded in doing is grow an inexplicable impulse to adopt a cat NOW.
I even managed to run through some lists of breeds and decided on which I want - and I decided that I want a Pixie-Bob,
And it has a dog-like personality too!
I'm thinking of Ocicats as well but they are suppose to be hard to get. In fact, I actually prefer how an Ocicat looks like compared to a Pixie-Bob,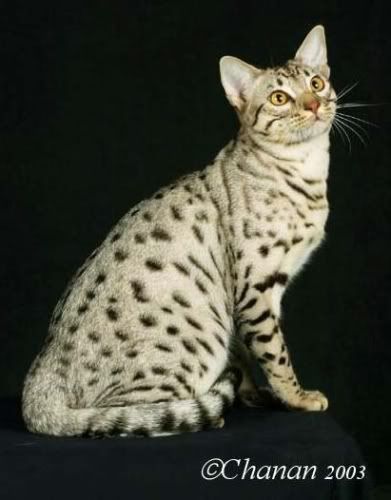 Actually, I'm mostly thinking

"shorthair equals less moult"

. But dig the wild threads!
See a pattern in the sort of cats I'm interested in?

Anyway, I can happily make do with a common domestic shorthair too. I'm not to picky about breeds, really. Anyone has kittens from a good-tempered momma cat up for adoptions? Also, anyone has a kitten with mismatched eyes but thinks that it's ugly?
My grandmother won't be too happy about it, I expect. Why do Chinese people hate cats so much? I back during my
Tioman trip
, I discovered that each and everyone of my classmate who went with me has that reflexive revulsion towards cats (and Tioman, by the way, is one cat-infested island). I was quite shocked actually to find that out because I used to think that only the old extra-Chinese folks have that prejudice. Even back here on terra Malacca, when a cat walks up expectantly to our tables to, uhm, sympathy-stare some scraps from us, someone would shoo it off like it brought the plague - in spite of the fact that it's
just standing there
(standing most politely too, I must add). And our zodiac animals,

we rather have a rat in it instead of a cute widdle kitty!

What the heck's up with that anyway?!
I expect that I can only adopt one when I start working elsewhere and have a place of my own. In the meantime, anyone who owns a cat can let me know exactly how much care a cat needs? I'm reading up on it, but a bit of firsthand advice from actual cat-owners would really help - specifically the sort of problems I would encounter when I own a cat.
Now, I shall return to Surgery. Reluctantly. And cat-less.
P.S. It's Caturday, by the way.
Desperately seeking cat,
k0k s3n w4i